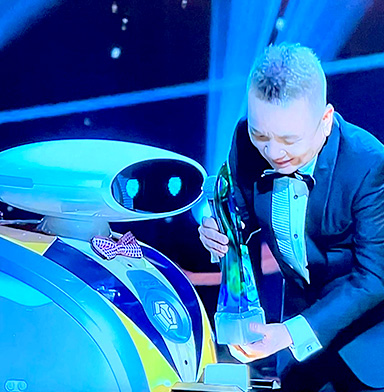 23 April
Mediacorp Star Awards 2022
The Star Awards is one of Singapore's biggest nights in the media. Broadcasted to millions across the country, the award show gives out accolades to the nations most illustrious names in Chinese media entertainment, organised by media conglomerate Mediacorp.
This year, LionsBot International—the autonomous robotics company based in Singapore—was approached by Mediacorp to support the televised ceremony on 24 April 2022. Their globally acclaimed LeoBots were invited to hand out the awards to the stars.
In honour of the event, LionsBot built two customised LeoBots designed with classy tuxedo-inspired regalia—even sporting a bowtie to match the glitz and glamour of the night. The LeoBots were accompanied by two members of the LionsBot RST (Robot Support Team), supporting them at the live event. In addition, LionsBot created a custom-made trophy stand just for the ceremony—designed with a built-in LED light that would illuminate the trophies. LionsBot's Asia Vice President Aldric Tey was also part of the star-studded event, joining Mediacorp's behind-the-scenes interview segment.
The night ended with warm cheer and high spirits from everyone who had attended. The ceremony went without a hitch—many thanks to the gracious LeoBots who had a big part to play. A big congratulations to all the winners!