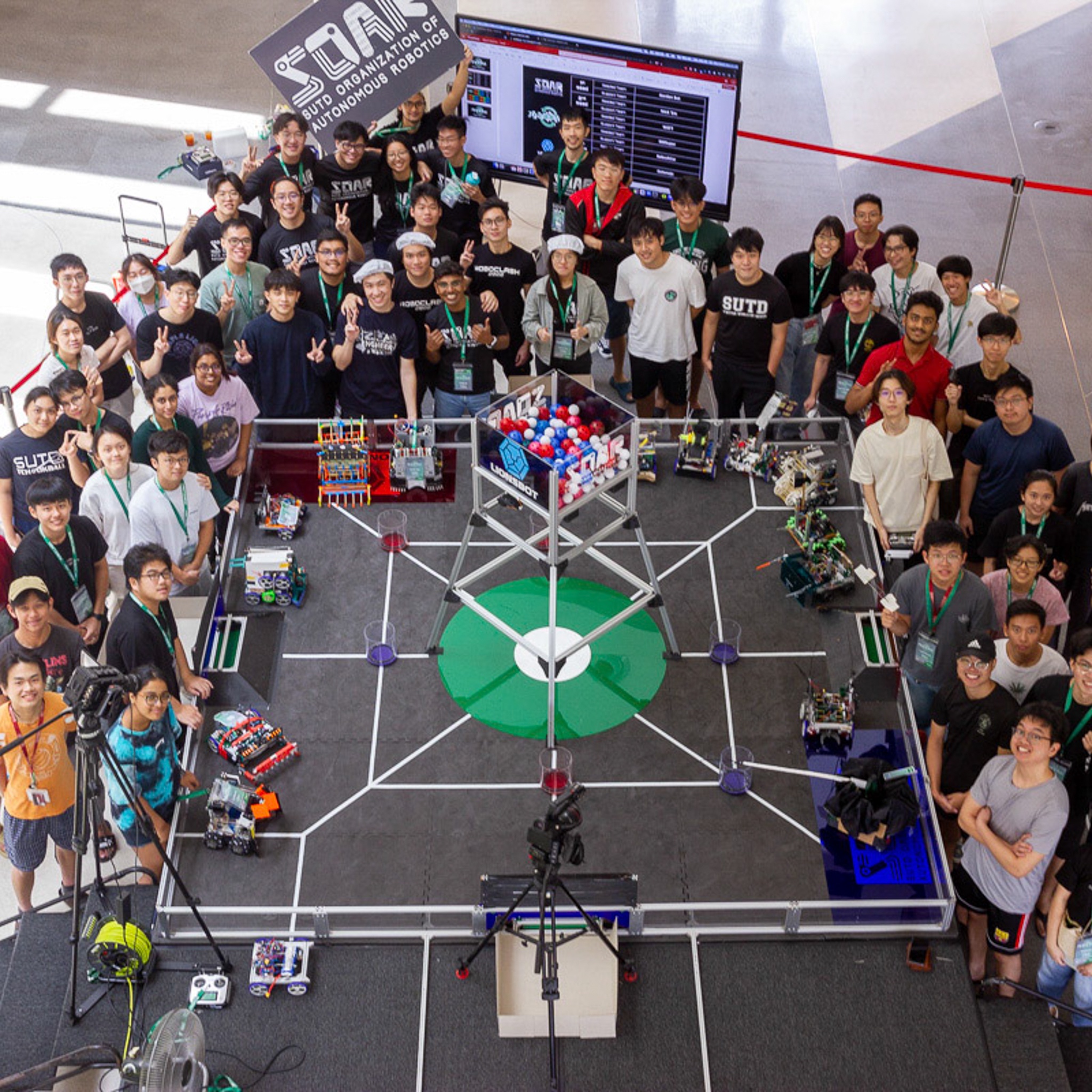 10 January
RoboClash 2023
Students at the Singapore University of Technology and Design (SUTD) had an exciting start to the year at RoboClash 2023: Trash Dash—an annual national autonomous robotics tournament run by the SUTD Organisation of Autonomous Robotics (SOAR). This year's competition took place 10–12 January, and LionsBot was proud to sponsor the event once again and provide support through mentorship, guidance, and more.
RoboClash 2023: Trash Dash was a showcase of the next generation of engineers pushing their limits and achieving the impossible—by designing robots that can sort trash and recyclables by clearing real-world inspired obstacles. Two alliances of two teams face off on a massive playfield, where they compete to score as many points as possible by sorting balls in the respective bins. But the competition comes with catches—in the form of roadblocks and angled dunes—which their robots must overcome as they try to outscore their opponents!
Prior to the competition on 20 December 2022, Daniel Tan and Wei Tong—hardware and software engineers respectively from LionsBot—gave a presentation to help prepare participants for the upcoming battle. They guided and gave them tips on how they should approach the design process, as well as provided inspiration for ideas based on the competition's game manual.
On 10 January, LionsBot's Chief Technology Officer, Sunardi Tay, presented the opening speech during the opening ceremony, while Wei Tong helped judge contestants and determine who were worthy of the LionsBot Excellence Award—given in recognition of the team with the most polished and well-executed robot design overall. On the final day, LionsBot's Chief Product Officer, Tushar Mohan, gave the closing speech and awarded prizes to the respective teams.
As a home-grown, internationally successful smart robotics company, LionsBot is always eager and excited to help inspire and guide the future generation of talents in the robotics industry. RoboClash continues to stand out as a prominent platform to reach the prospects of tomorrow and impart them with the skills and knowledge accrued today. Most importantly, it's an avenue where an ever-growing passion for all things robotics is shared amongst everyone—making it an unforgettable event!